Health Sciences, Anatomy & Evolution at Mizzou
Integrative Anatomy includes faculty and students in the MU School of Medicine. Our research incorporates biomedical sciences, human anatomy and the fossil record.


We share our expertise in anatomy, anthropology, paleontology, and natural history through a variety of on- and off-campus outreach activities.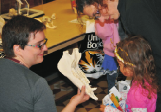 We bring our labs to the classroom to share the basics in anatomy, form, and function while fossils and bones from our latest research.

Come visit our annual spring public science exposition,
Dinosaurs & Cavemen
at Rock Bridge High's Planetarium where we celebrate the earth, the fossil record and our ever-changing climate.

Come visit our booth at this annual spring event hosted by MU's Graduate School and our Integrative Anatomy Graduate Students.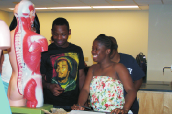 Health Sciences & Anatomy Lab Visits
We welcome high school and local college anatomy classes to visit our Human Anatomy Lab in the School of Medicine. Faculty, teachers, and students work with donors and models to learn clinical anatomy, imaging, and pathology in a unique and rewarding experience.

We give presentations and lectures to all ages including public schools, civic groups, and campus programs.